Home buying: Step by Step
Step 1 — Is Homeownership Right for You?
If you answered yes to any of these questions, you may not be ready to own a home yet. While you probably have a lot of good reasons for wanting to buy a home, you also have to consider your reasons for not wanting to.
Remember that buying a home is one of the biggest emotional and financial decisions you'll ever make, so prepare yourself to make a knowledgeable decision.
Although buying a home almost always seems like a great idea, it is important to understand what homeownership involves. Of course, being a homeowner is something to be proud of but it also means having to invest money, time and energy and take on added responsibilities. So, before you decide to buy a home, make sure you're ready.
When most of us consider becoming homeowners, we immediately think of how wonderful it will be. It is true that there are a lot of good reasons for wanting to buy a home. Here are some of the main advantages of owning a home:
Financial Security.

 

If housing prices rise, your home can provide you with some financial security due to capital appreciation.
Flexibility.

 

You can decorate or renovate your home to meet your own family's personal tastes and needs.
Stability.

 

Having a place of your own.
Although it is nice to think about the positive aspects of owning a home, it is important to consider the downsides as well.
Here are some of the main disadvantages of owning a home:
Financial Stress.

 

Coming up with the down payment, meeting regular mortgage payments and other ongoing costs will tie up a lot of your cash, and can put considerable stress on your finances.
Maintenance.

 

Keeping your home in good shape requires time and money.
Higher Costs.

 

You may pay more each month for housing than you did as a renter. There are also extra costs for maintenance and property taxes.
More Responsibility.

 

You alone are responsible for payments, repairs and maintenance.
Step 2 — Are You Financially Ready?
To avoid any future surprises, you can do some financial exercises to see where you stand. They include: calculating your net worth, your current monthly expenses and your current monthly debt payments.
Knowing your net worth is important because you will need this information when you discuss a mortgage with your lender. Your net worth is the amount left over once you've subtracted your total liabilities from your total assets. It will also give you a snapshot of your current financial situation and show you how much you can afford to put as a down payment.
Step 3 — How Much will it Really Cost?
Up-Front Costs: You will need to plan ahead to cover the many up-front costs of buying a home. Timing is important to help make sure things go smoothly.
Mortgage Loan Insurance Application Fee and Premium.

 

If yours is a high ratio mortgage (less than 25% down payment), you may need mortgage loan insurance. To get this insurance, you may be asked to pay the required application fee. Your lender may add the mortgage insurance premium to your mortgage or ask you to pay it in full upon closing. (Refer to Step 2 for details.)
Appraisal Fee.

 

Your mortgage lender may require that the property be appraised at your expense. An appraisal is an estimate of the value of the home. The cost is usually between $250 and $350 and must be paid when you contract for those services. (Refer to Step 5 for details.)
Deposit.

 

This is part of your down payment and must be paid when you make an Offer to Purchase. The cost varies depending on the area, but it may be up to 5% of the purchase price. If you wish to make a down payment of 5% and you give a deposit of 5%, then your down payment is considered to be made.
Down Payment.

 

At least 5% of the purchase price is usually required for a high-ratio mortgage and at least 25% of the purchase price is usually required for a conventional mortgage.
Estoppel Certificate Fee

 

(not applicable in Quebec). This applies if you are buying a condominium or strata unit and could cost up to $100.
Home Inspection Fee.

 

Remember that this may be a condition of your Offer to Purchase. A home inspection is a report on the condition of the home and may cost over $200, depending on the complexities of the inspection. For example, it may be more costly to inspect a home that has large square footage, one that is expensive or one where contaminants such as pyrite, radon gas or urea-formaldehyde are suspected. (Refer to Step 5 for details.)
Land Registration Fees

 

(sometimes called a Land Transfer Tax, Deed Registration Fee, Tariff or Property Purchases Tax).You may have to pay this provincial or municipal charge upon closing in some provinces. The cost is a percentage of the property's purchase price and may vary. Check with your lawyer/notary to see what the current rates are.
Prepaid Property Taxes and/or Utility Bills.

 

To reimburse the vendor for pre-paid costs such as property taxes, filling the oil tank, etc.
Property Insurance.

 

The mortgage lender requires this because the home is security for the mortgage. This insurance covers the cost of replacing the structure of your home and its contents. Property insurance must be in place on closing day. (Refer to Step 5 for details.)
Survey or Certificate of Location Cost.

 

The mortgage lender may ask for an up-to-date survey or certificate of location prior to finalizing the mortgage loan. If the seller does not have one or does not agree to get one, you will have to pay for it yourself. It can cost in the $1,000 to $2,000 range.
Water Quality Inspection.

 

If the home has a well, you will want to have the quality of the water tested to ensure that the water supply is adequate and the water is potable. You can negotiate these costs with the vendor and list them in your Offer to Purchase.
Legal Fees and Disbursements.

 

Must be paid upon closing and cost a minimum of $500 (plus GST/HST).Your lawyer/notary will also bill you direct costs to check on the legal status of your property. (Refer to Step 5 for details.)
Title Insurance.

 

Your lender or lawyer/notary may suggest title insurance to cover loss caused by defects of title to the property.
If you feel you cannot cover all of the up-front costs, you can ask your lender for a loan. Remember that payment for this loan amount, based on a 12-month repayment period, will have to be included in your Total Debt Service ratio calculation.
Other Costs:
Besides up-front costs, there are other expenses to consider:
Appliances. Check to see what comes with the house, if anything.
Gardening equipment.
Snow-clearing equipment.
Window treatments. Check to see what comes with the house.
Decorating materials. Paint, wallpaper, flooring and tools for redecorating.
Hand tools. You will need some basic hand tools for your new home.
Dehumidifier. May be required to control moisture levels, especially in older homes.
Moving Expenses.
Renovations or Repairs.
Service Hook-Up Fees. Charged for utilities. You may be required to pay a deposit for utilities such as telephone and heating services.
Condominium Fees. You may have to make the initial payment for these monthly fees.
Step 4 — What Should You Buy?
Even if the home you choose has everything you need, the location might not be appropriate. When deciding where to live, you should take the following things into consideration:
Whether you want to live in a city, a town or even in an out-of-town location
Where you work and how easy it is to commute
Where your children will attend school and how they will get there
Whether you need a safe walking area or recreational facilities such as a park nearby
How close you would like to be to family and friends
Step 5 — What Professionals Should You Call On?
Because purchasing a home is probably the biggest investment you will ever make, you'll definitely want a team of professionals working with you throughout the process.
The Home Builder's Sales Coordinator
No one will play a more important role in helping you find a home than your real estate agent. Your real estate agent's job is to:
Help you find the ideal home.
Write an Offer of Purchase.
Negotiate on your behalf to help you get the best possible deal.
Provide you with important information about the community arrange and coordinate the home inspection and essentially save you time, trouble and money.
When the time comes to select a real estate agent to sell your older home, don't be afraid to ask questions — especially about any possible service charges. Vendors normally pay a commission to the agent but some agents charge buyers a fee for their services.
The Lender or Mortgage Broker
If you haven't already gone through the mortgage pre-qualification process, you will need to find a good lender to assist you during the purchasing process and for as long as you have your mortgage.
Remember that many different institutions lend money for mortgages, such as banks, trust companies, credit unions, caisses popularizes, pension funds, insurance companies and finance companies. It's a good idea to shop around and speak with more than one lender because terms and options will vary.
Some people find it helpful to use a mortgage broker. Mortgage brokers don't work for any specific lending institution. Their role is to find the lender with the terms and rates that will best suit the buyer.
To find a lender or mortgage broker, you can:
Get a referral from your real estate agent, family members, friends or other professionals.
Look in the Yellow Pages under Banks, Credit Unions or Trust Companies for a lender and under Mortgage Brokers for a broker.
Contact the Canadian Institute of Mortgage Brokers and Lenders at 1 888 442-4625 or visit their website at

 

www.cimbl.ca.
The Lawyer/Notary
You need a lawyer (or a notary in Quebec) to protect your legal interests such as ensuring the property you are thinking of buying does not have any building or statutory liens or charges or work or clean-up orders associated with it. He or she will review all contracts before you sign them, especially the Offer (or Agreement) to Purchase. Having a lawyer/notary involved in the process will give you peace of mind and ensure that things go as smoothly as possible.
Remember that a lawyer/notary:
Should be a licensed full-time lawyer/notary.
Should be local and understand real estate laws, regulations and restrictions.
Should have realistic and acceptable fees.
Can explain things in plain language.
The Home Inspector
You should consider having any home you are thinking of buying inspected by a knowledgeable and professional inspector.
The home inspector's role is to inform you on the property's condition. He will tell you if something is not functioning properly, needs to be changed or is unsafe. You will also be informed of repairs that need to be done and he/she may even be able to tell you where there may have been problems in the past.
Every inspection should include an evaluation of at least the following:
Foundation
Doors and windows
Roof and exterior walls
Attics
Plumbing and electrical systems
Heating and air conditioning systems
Ceilings, walls and floors
Insulation
Ventilation
Septic tanks, wells or sewer lines
Any other buildings such as a detached garage
The lot, including drainage away from buildings, slopes and natural vegetation
Overall opinion of structural integrity of the buildings
Common areas (in the case of a condominium/strata or co-operative)
The Insurance Broker
An insurance broker can help you with your insurance needs, including property insurance and mortgage life insurance. Lenders insist on property insurance because your property is their security for your loan. Property insurance covers the replacement cost of your home, so premiums may vary depending on its value.
Your lender may also suggest that you buy mortgage life insurance. Mortgage life insurance provides coverage for your family should you die before your mortgage is paid off. This type of insurance is often available through your lender, who then simply adds the premium to your regular mortgage payments. However, you may want to compare rates between both an insurance broker and your lender.
Be careful not to confuse property or life insurance with mortgage loan insurance, which may be required for high-ratio mortgages.
The Appraiser
Having an independent appraisal done on a property before you make an offer is a good idea. It will tell you what the property is worth and help ensure that you are not paying too much. Your lender can also ask for a recognized appraisal in order to complete a mortgage loan.
The appraisal should include an unbiased assessment of the property's physical and functional characteristics, an analysis of recent comparable sales and an assessment of current market conditions affecting the property.
Appraisal fees may vary but you should not pay more than $250 – $350 in most areas for a typical single-family house.
Your real estate agent may be able to refer an appropriate professional.
The Land Surveyor
If the seller does not have a Survey or Certificate of Location, you will probably need to get one for your mortgage application. If the Survey in the seller's possession is older than five years, it will probably need to be updated. Remember that you must have permission from the property owner before hiring a surveyor to go onto the property. Ask your real estate agent to help co-ordinate this with the owner.
The Builder/Contractor
If you are buying a newly constructed home or require renovations to a resale home, you will have to hire a builder or contractor. Here are some things to keep in mind when choosing one:
Ask for references and talk to other customers about the builder's performance.
Ask for references and talk to other customers about the builder's performance
Check with the New Tarion Warranty program in the area.
Visit other housing developments that the company has built.
Ask builders or contractors if they are members of a local homebuilders' association or ask for a provincial license number.
If you are having a custom home built, remember that:
You may want to hire an architect.
Builders of custom homes usually work on either a fixed-price or a cost-plus basis. Authorize any changes to your contract by writing your name or initials beside the change.
On a final note, make sure your contract is as specific as possible about construction details, right down to the brand name or model number of any finishes. Make sure that you initial any changes to your contract. Use this handy
Step 6 — How Can You Find the Right Home?
Once you figure out what you can afford to pay for a house and obtain a pre-qualified mortgage, you are ready to start your search. There are a variety of sources you can use to find the home that is right for you.
Word of mouth.

 

By telling everyone you know that you are looking for a house, you might hear about homes that are just becoming available on the market.
Newspapers and real estate magazines.

 

Check the new homes section in daily newspapers or look for real estate magazines available at newsstands, convenience stores and other outlets. These free publications feature pictures and brief descriptions of a variety of homes.
The Internet.

 

Check out real estate websites, such as http://www.mls.ca for information and pictures of a wide range of properties. This site allows you to narrow your search by location, price, number of bedrooms and other features.
"For Sale" signs.

 

Drive around a neighborhood that interests you and look for "For Sale" signs. This is a good way to find homes that are being sold by the owner.
Visit new development sites.

 

If you are looking for a newly built home, this will allow you to see the different models available and to get information from builders.
Work with a real estate agent.

 

For most buyers, a real estate agent is key to finding the right home.
Step 7 — Ready to Buy?
Once you have found the home you would like to purchase, you need to present the vendor with an Offer to Purchase or an Agreement of Purchase and Sale. As your home is probably your biggest investment, it would be wise to work with your real estate agent and/or a lawyer/notary in preparing your offer. Remember that the Offer to Purchase or Agreement of Purchase and Sale is a legal document and should be carefully prepared.
Any offer or agreement will typically include:
Your legal name, the name of the vendor and the legal civic address of the property.
The purchase price offered.
The chattels that will be included in the purchase price (e.g.: window coverings, appliances or a satellite dish). Whatever items in or around the home that you think are included in the sale should be specifically stated in your offer.
The amount of deposit.
The closing day (date you take possession of the home) — usually 30 to 60 days from the date of agreement. It can also be 90 days or longer.
Request for a current land survey of the property.
Date when the offer becomes null and void.
Any other conditions that go with the offer, including property inspection and approval of mortgage financing.
The process of making an offer, receiving a counteroffer and then revising it again is not uncommon. The whole process can seem like a roller coaster ride — exciting, but stressful. It's all part of making the deal work best for you and the vendor.
Step 8 — The Final Steps
Closing day is the day when you finally achieve your goal — you take legal possession and finally get to call your new house your own. You are sure to feel great relief and satisfaction but remember that the home buying process isn't over just yet. There are quite a few things that need to be done on closing day.
Your lender will provide the mortgage money to your lawyer/notary.
You must provide the balance of the purchase price to your lawyer/notary along with the closing costs.
Your lawyer/notary pays the vendor, registers the home in your name, provides you with a deed and the keys to your new home.
Hiring a Mover – It is now time to hire a mover. Friends or relatives may be able to recommend a professional moving company but don't forget to ask the mover for references. You will also want an estimate and outline of fees (flat rate or hourly charge, etc.). Once you've selected a mover, it is a good idea to have the representative come to your home to see what will be moved and revise the estimate if necessary.
During the move, you'll want to ensure that your belongings are insured. Your home or property insurance may cover goods in transit but call your broker or insurance company to be safe and to ask about the extent of coverage. Many moving companies offer additional insurance coverage. Be aware that professional movers are not responsible for items such as jewelry, currency or important papers. You will have to move these yourself.
If you decide to do your own packing, keep in mind that you will need the proper materials and that it could take up a lot of time.
The Big Day – On moving day, go through the house with the van supervisor and provide any special instructions. The supervisor will also make note of the condition of your goods on an inventory list. Go through the house with the supervisor to make sure the list is complete and accurate. Then, when the van arrives at your new home, mark off the items on the mover's list as they are unloaded. Remember that even if the movers unload and unpack boxes and remove packing materials, they will not put dishes or linens into cupboards.
Saying goodbye to one home and neighborhood and discovering a new one can be very exciting. Just make sure it is not hectic as well. Plan ahead to make the transition as smooth as possible for everyone involved. That way, you can breathe easy and enjoy your new home without having to worry so much.
Step 9 — Is There More to Homebuying?
Finding and purchasing your home can be an exciting and overwhelming process. You may be relieved once you finally take possession of your new house but be aware that the financial responsibilities of homeownership are just beginning.
Make Your Mortgage Payments on Time
Whether monthly, biweekly or weekly, be sure that you always make your mortgage payments on time. Making late payments (delinquency) may result in late charges and negatively affect your credit rating. Failing to make payments can even lead to more serious consequences like foreclosure.
A good way to prevent late payments is to have the amount automatically deducted from your account every month and to put at least three months' worth of mortgage payments in savings for emergency situations. If you are having trouble making payments, discuss the situation with your lender.
Costs of Operating a Home
Besides your mortgage, property taxes and insurance, there are many other ongoing costs related to operating your home. They include maintenance and repair, costs for services such as security alarm services, snow removal services and gardening services (if you wish to pay for these). If you have a condominium or strata, some of these expenses may be included as part of your monthly maintenance fee.
Saving for Emergencies
Even if you know how to do repairs yourself, there are costs involved. Every building has a life cycle, which means that all parts of a building age and require major repairs or replacement at some point. For example, you might know that your roof will have to be replaced in a few years simply because of its age. Repairs like these are expected and can be planned for. However, many repairs are unexpected and can sometimes be costly.
Set aside an emergency fund to deal with unexpected problems ranging from major repairs to illness and job loss. A good guideline is saving 5% of your take-home pay and putting it in a special account.
Living Within Your Budget
Prepare a monthly budget and stick to it. You should monitor your spending every month and evaluate your progress in meeting your financial goals. If you continue to spend more than you are bringing in, you must find ways to cut back. If you are having trouble sticking to your budget, don't hesitate to ask a professional money manager for help.
Step 10 — Tips on Home Repair and Maintenance
Once you've finally settled in, you may start to view your home with a more objective eye. Perhaps there are things you'd like to change — the kitchen cabinets or the flooring, for instance. Perhaps there are things that require repair, such as the plumbing or the windows. You will soon realize that maintenance, repair and renovations are a normal part of homeownership.
Perform Regular Maintenance and Repair – doing regular maintenance and taking care of small repairs right away, you'll avoid more costly repairs down the road.
Home Improvements – besides doing regular maintenance and repairing your home, you will also want to consider renovating or making improvements. These changes will not only make the home more pleasant for you to live in, they may also increase its value.
Change is good but be careful not to go overboard unless you plan to stay in your home for many years. If you are planning to sell your house, you also have to ensure that the changes don't make your home worth a lot more than the other homes around you. Remember that the value of your home is closely related to the other homes in your area.
Make Sure Your Home is Fully Secure
Add dead-bolt locks and window locks where necessary.
Consider getting a security system. Your property insurance rate may be lower if you have one.
Use outdoor lighting. You can get lights that turn on automatically every evening or motion-sensor lights that come on when someone walks by. However, use outdoor lighting judiciously to be more energy-efficient.
When you are away from home, use lights and radios on automatic timers and arrange to have your mail and newspapers picked up or discontinued. This way, people won't be able to tell that you are not home.
Get to know your neighbours and keep an eye out for each other.
Be Prepared and Stay Safe – Have a fire evacuation plan and make sure everyone in your home knows how to get out of the home from each room in case of a fire. If you have a second floor, you need a special escape plan to get to the ground. Check to see that windows have not been painted shut. Although doors and windows should always be securely locked, you have to be able to open them in an emergency.
Step 1 — Come see us!
Come into one of our Sales Centres and talk to us about your needs. Pick your plan, pick your product, pick your price! We offer a variety of home plans and price points to meet all your needs.
Step 2 — Price it out!
Our Sales Associates create a "Sales Pricing Guide". This document includes all the requests, options and upgrades and is presented to you the buyer for your approval. At this point, you have the ability to customize your floor plan and layout, add any additions, or change any mechanical or wiring or plumbing to fit your requested home style.
Step 3 — Firm it up!
If you, the buyer, agrees to the home plan and pricing, we "firm it up". The Agreement of Purchase and Sale, Sales Pricing Guide, and your $20,000 Deposit Cheque is reviewed by management for their approval.
Step 4 — Design your new life!
Each Sales Associate at Pinewood has training and experience with Interior Design and Décor. After the Agreement of Purchase and Sale Contract is accepted, we contact you to set appointments for "Selections". As Pinewood is a true custom builder, we refuse the use of a "Décor Centre". Instead, we bring you directly to our suppliers to choose your interior and exterior selections. We accompany you to these appointments, and assist you in designing the home: siding, brick, flooring, kitchen, lighting, fixtures and paint… we help you to design your most beautiful home!
Step 5 — Sit back and let us do the work!
After your selections are chosen, the suppliers contact us directly with your lists and plans of your home. We bring you in to sign off on the designs, and approve any costs for upgrades you have chosen. From this point, the suppliers get to work on production while we start the homebuilding process.
Step 6 — Let's walk it out!
Throughout the building process, we will be in constant contact with you. We commit to our buyers 100% throughout the phase and make sure you are in the loop of all the steps of the build phase.
When the build is complete, about 1 week prior to your Closing Date, yourselves and anyone you wish to accompany you, your Sales Associate, and our Site Supervisor do a "Walk-Through"/ This step is dictated by law as a Builder responsibility to Tarion. Tarion is a private corporation established to protect the rights of new home buyers and regulate new home builders. Tarion administers the Ontario New Home Warranties Plan Act, which outlines the warranty protection that new home purchasers are entitled to in Ontario.
During this walk-through, we bring a multi-page Tarion document and inspect every inch of the home. Any defects are recorded on the Tarion Warranty forms. After the walk-through is completed to your satisfaction, this document is sent to Tarion, who ensures the homebuilder remedies any defects on your behalf. The builder has the week prior to close to fix any of the items on your walk-through list.
Step 7 — Move it!
On the day of your closing, our lawyers contact us after your mortgage has been deposited. We have you collect your new set of keys and your move in begins! After this step, many buyers seek our advice and suggestions for furniture placements and selections, window coverings and other helpful design tips.
Step 8 — It's up to you!
Your Tarion Warranty doesn't stop at move in! Your warranty requests that at about the one-month mark of taking possession of your new home, you do another walk-through inspection. The same multi-page document is given to you and you are expected to inspect your home and list any defects (there may be none!). Your responsibility is to mail this form directly to Tarion so that they may enforce the homebuilder's dedication to maintaining and fixing any problems.
This Tarion Warranty walk-through step is also done by the home owner at the one-year and 2-year mark. We encourage you to take the time to do this properly for the satisfaction and maintenance of your home and your customer service.
No one gives service like we do!!!!!
Closing costs are a list of charges your lawyer presents to you on the closing date of your home. Many people are surprised at the additional costs over and above the price of the home. According to the CMHC and Genworth Financial you should have at least 1.5% of the purchase price for closing costs in addition to the down payment (have around 2.5% to be on the safe side). The costs vary among provinces and cities.
Below you will find a brief explanation of these costs. Please note these are some of the closing costs you may encounter depending on your specific situation. Use this as a guideline then talk with your lawyer who can provide a more realistic estimate for your situation.
Appraisal Fee Generally Required with New Homes
An appraisal provides the lender with a professional opinion of the market value of the property. This cost is normally the responsibility of the homeowner and it can cost between $100 – $300.
Home Inspection Fee Generally Required with Resale Homes
A professional inspection of the home, top to bottom, is for the benefit of the buyer. A home inspection can cost anywhere from $300 – $400 and is well worth the investment. When hiring a home inspector make sure the inspector has liability insurance just in case they overlook something.
Fire Insurance
Mortgage lenders require a certificate of fire insurance to be in place from the time you take possession of the home. The amount required is generally the amount of the mortgage or the replacement cost of the home. This cost can vary on the property size, amount of coverage, the insurance company and the municipality. The cost can vary anywhere from $250-$600 annually for most properties.
Provincial Sales Tax on Mortgage Insurance
If your mortgage is insured, (CMHC or Genworth Financial), you will be required to pay the applicable taxes on the insurance premium on closing. While the insurance premium can be added to the mortgage amount, the tax must be paid at closing.
Land Survey Fee or Title Insurance Fee
A recent survey of the property is usually required by lenders. If one is not available the cost can range between $600 – $900 for a new survey. In lieu of the survey most lenders today will accept title insurance which can cost considerably less.
Legal Costs and Disbursements
Lawyers and notaries charge fees for their services involved in drafting the title deed, preparing the mortgage, and conducting the various searches. Disbursements are out-of-pocket expenses incurred during the process such as registrations, searches, and supplies.
Land Transfer Tax
Most provinces charge a land transfer tax payable by the purchaser. The amount varies depending on the province. Land transfer tax is based on the purchase price. First time home buyers purchasing a new or re-sale home may be entitled to a refund.
Tarion New Home Warranty
In most provinces new homes are covered by a new home warranty program. The cost to the purchaser for this warranty is approximately $600 and should the builder default or fail to build to an agreed-upon standard the fund will finish or repair the deficiencies to a maximum amount. For more information on Ontario new home warranty visit httpss://www.tarion.com
HST
HST is payable on the purchase of a newly constructed homes only. If you are purchasing a new home make sure you know who pays this, you or the builder. On the offer the purchase price will say "Plus HST" or "HST Included" and who gets any HST rebates. Many builders have included this cost into the purchase price so the buyer does not have to come up with it at closing.
Closing Adjustments
An estimate should be made for closing adjustments for bills the seller has prepaid such as property taxes, utility bills, and other charges. Any bills after the closing date are the responsibility of the purchaser. A lawyer will let you know what they are once the various searches have been completed.
Mortgage Payment Calculator:
2125 Fruitbelt Pkwy,
Niagara Falls, ON L2J 0A5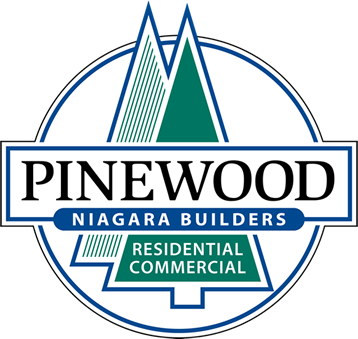 When looking for a new home, Pinewood Niagara Builders are here to help you find the perfect home for every stage of life whether you are moving up, are a first time buyer, an empty nester interested in downsizing, or an investor wanting to learn more about the opportunities in Niagara, we have you covered. Choose which communities you are interested in and tell us more about you by completing our registration form.